Fri 7 Sep 2012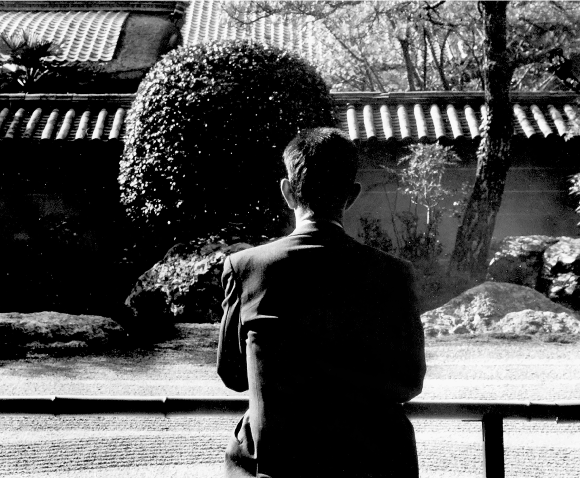 John Cage sitting
John Cage was born September 5th, 1912 and thus would have been 100 years old this week. There really has been no more influential twentieth century composer and his influence has loomed ever larger since his death.  His influence on my music making in the last few years is undeniable and even more-so if you consider the second (and third and …) generations of influence.  This year I ended up being away for quite some time on a cross-country bicycle tour which I set out on not long after I composed the tribute piece in the previous post. Alas I have yet to find an opportunity to construct that score and perform it but I hope to before the end of the year.  In the meanwhile I'd like present for the first time a few other pieces that I've made in tribute to John Cage.
In 2010 I embarked on a musical project where I released a musical object for eleven months of the year.  This project, the Eleven Clouds, project was a many layered project with each release have multiple facets to it. One of this facets was that each piece was dedicated to an artist that had been a major influence on me. The April entry in this series, Mid-Spring (rock, breath, 12kHz) was dedicated to John Cage. Another aspect of the project was that there was a task that one had to undertake to receive a copy of said release which were made in extremely limited physical releases. The task for this release involved decoding the instructions and then following them.  For the first time since this release I present both the decoded text for this release as well as lossless versions of the music.

 Mid-Spring (rock, breath, 12kHz)

0365501 0071612 1111201 2610111 0620206 2671704 0640113 0583014 0420704 1462405
2630204 1811604 0692009 0861004 0880306 0571804 1670104 0233209 0112402 2610111
0880306 0112310 2760203 0062809 0762109 2610111 2673501 1740205 2742106 0043108
0512804 0112402 2610111 0571301 2761209 0171109 0060206 2640501 2630204 0541301
2761209 0080104 0880306 2761209 2610111 0880306 0171109 1800107 0880306 0010101
0071612 1750802 0420704 0122112 2630204 0880306 1021112 2633416 1811604 0692009
0700306 0420408 0592102 0891103 2610111 1380201 0161204 0703009 0640113 0560601
0990402 1271006 0365501 0583014 1150103 0880306 2291506 1460210 0071010 0071612
0020402 2732404 1271006 1110708 1890503 0880306 0050703 1452305 0550517 0102104
1271006 1881401 1862301 2610111 0891103 0851816 0080904 0160202 0990402 0061106
1890503 0880306 1694100 0102808 0080203 2651509 0290403 1090916 0031506 0080203
0290403 0040811 0090605 0140502 2020106 1583104 2631508 0360120 2671704 0671707
0583014 1431308 1690906 0181410 2440703 0080203 0171804 1090916 0071612 0640113
1881401 2470803 1040701 1032103 0630210 0040811 0140502 1040701 0090605 1581905

2020106 1271006 0342502 2610111 0640113 0070308 1341706 2210206 1271006 0900902
2660210 0880306 0711210 1281106 0043108 0880306 0961602 0510112 0071612 0880306
0591906 0171005 0080203 1082210 2660210 2420801 0880306 0711210 0640113 1730505
0080203 1020114 2660210 0071612 0880306 0900902 0000000 0000000 0000000 0000000

For more information please feel free to contact us at
mgmt AT hollowearthearthrecordings DOT com.
Silencio, 16
Cleartext
Constructed in memory of John Cage, this piece was composed by chance operations using the I-Ching. The three layers of the score are made up of a fixed event with two layers of variable length events each separated by variable length silences. The length of the events and the silence in between was determined by the previously mentioned chance operations. Unlike previous any realization of other musical patterns this one is a constructed piece (whereas the others were realized in real time) a demonstration that the system does not require a particular form of realization.  As always it is essential that the sound sources be carefully chosen but  can be chosen from recorded material. For an even more Cage influenced piece these sounds themselves could be anything but in this particular case I chose them from material I recorded myself.
For a copy of this  recording simply send a message to the address below with the word anechoic in the subject line.  Be sure to include the address this should be sent to in the message. [Ed. note: this offer is no longer valid. Instead download the release from the Mid-Spring (rock, breath, 12kHz) page]
For more information please feel free to contact us at
mgmt AT hollowearthearthrecordings DOT com.
Silencio, 16
—
The code was a book code using John Cage's Silence. The only plain text in the post, Silencio, 16, was the clue to to use Silence Weslyan University Press 16th Edition (though most editions from around that time would work) using the following system:
7 digits to find each word:
Page: 3 digits (e.g.: 029 is page twenty-nine)
Line: 2 digits (e.g: 10 would be the tenth line)
Word: 2 digits (e.g.: 01 would be the first word on that line)
Along with the 11 releases in the project there is also a corresponding document that describes the theory, the methods and the many layers behind each release. For various reasons this document has yet to be made public (though parts of it were used in an interview with Joe Milazzo on Drunken Boat). Below I've pasted in the entry in this document for Mid-Spring (rock, breath, 12kHz), the first unedited bit of this document to be published. Note that this document was a work in progress and there hasn't really been any editing on this entry nor is it as complete as I intended. It does cover the basics behind it, its place in the 11 releases, the tributary aspects and the reception of the piece and the success of the challenge that was required to get a free copy of this release.
Excerpt from No Ideas But in Things, the companion document to the Eleven Clouds project:
(04) Mid-Spring (rock, breath, 12kHz) (April 2010)
Released April 2010 as a 3" CD-R in an unlimited series though only four were ever made.
While aolian electrics [Ed.: The previous months release] strayed from the pure notion of utilizing the network instrument, it was still a vital part of the release.  This one on the other hand, completely strayed from the preceding releases. The piece was a direct homage to John Cage utilizing the I-Ching to generate a Musical Pattern9 from which pre-existing recordings were used to assemble the piece.  These recordings were of playing a recorder in an extended fashion focusing on the movement of air through restricted passages and playing with rocks in the manner of Christian Wolff's Stones. A 12kHz sine wave accompanied these sounds which were sparsely spread out over the pieces length.
The method of acquiring this piece was the most difficult to date and no-one rose to the challenge. This showed the limits of how much effort people would expend quite clearly (though this would be shown even more clearly in subsequent releases).  The release was to be freely sent out to anyone who successfully decrypted the press release. The cipher utilized was a trivial book code using John Cages Silence which was indicated in the plaintext 'Silencio 17' at the end of the message.  Some outcry or at least comments regarding some sort of befuddlement was expected but there was nothing.  Two copies of the release were sent along to people with other releases (how I would typically get rid of extra copies I had made of earlier releases).
—
Download the audio
This piece as well as a bunch of supplementary material is now available on the  Mid-Spring (rock, breath, 12kHz) page in both Apple Lossless and FLAC formats.  The supplementary material includes cover art, score, performance score, the encoded and cleartext PR, the encoding scheme and some additional images.
---
No Responses to " John Cage Centenary Week "
Leave a Reply
You must be logged in to post a comment.